16 Upcoming Records To Get Excited About This Fall 
From Haruka Nakamura's Hikari and Bjork's untitled record to the physical release of Jay-Z's 4:44 and Milo's Who Told You To Think??!!?!?!?! , here are the upcoming records to keep your music nerd momentum going steady throughout Autumn
The half-year has gone and passed, but 2017 can still gift to us an overwhelming amount of great new music. From physical, vinyl releases to upcoming (round the corner) records, here are sixteen albums in the next two months that promise to be an interesting gamble. A hype rating has been affixed as most of these artists are pretty established in their circles. Whatever your fix is, from records like BadBadNotGood's specially curated mixtape on an LP to upcoming albums by Pitchfork indie darlings, we've got you covered.
,
August 4, 2017 (Vinyl Out Now)
Hype Rating: 8/10
Yer Killin Me remains one of 2017's outright best stunners, and this record still holds as an interesting, well crafted and solid pop-punk album to dance in ironic angst to. The vinyl was requested months ago, from the flocks of /r/indieheads and theneedledrop fans, and about 4 months after, they've got their wish!
August 8, 2017
Hype Rating: 7/10
Modern day musical legend and Tokyo composer Haruka Nakamura has been nothing short but prolific in recent years, he's been touring and recording with a PIANO ENSEMBLE, scouring through churches and other cool tour venues, redefining what music means to him personally, he's even released a long awaited music video for Arne. If the promotional video for Hikari (which translates to Light) is anything to go by, this should be a fantastic collection of ethereal, moving music. Do not sleep on this.
who told you to think​?​?​!​!​?​!​?​!​?​! – Milo
August 11, 2017 (Vinyl: September 15, 2017)
Hype Rating: 9/10
"This album is going to change my life", writes the top comment on the YouTube video for the second single of this upcoming record. Hopeful idealism can be overreached in the millenial age of music window shopping, but when it's Milo, one of art rap's best living artists alive today, it's justified when the unknown dark horse comes around to actually beat Kendrick Lamar's To Pimp A Butterfly in Mass Appeal's contest of Album of The Year for 2015.

August 18, 2017
Hype Rating: 7/10
It's been a lengthy 5 years since Shields came out in 2012, and with that time spent, one can expect a significant sound change with an act like Grizzly Bear. However, this doesn't seem to be the case, it's remarkably similar to something like Shields, it's full of depth, complex instrumentation, soul-stirring themes. Fans can expect more or so a continuation or an expansion of the sounds from early 10s Grizzly Bear.
August 18, 2017
Hype Rating: 8/10
We were really impressed with this Manchester art pop outfit's album Get To Heaven back in (2015), which comfortably slotted in as one of the year's most infectious albums. This new direction they're taking with Fever Dream is a little more eccentric and dark, but thankfully doesn't lose any of the quirks that made them so appealing – there are bright bangers like Can't Do, which we're still a little on the fence about, but other surprising, gently played and heartfelt tunes like A Fever Dream really keep our interest piqued as to where they're going with this.
Villains – Queens of the Stone Age
August 25, 2017
Hype Rating: 8/10
Josh Homme has said that Mark Ronson's Uptown Funk was an inspiration for the direction of the album, and has even stated his interest in dancing for a reason why this record could emanate that path. This new combination from Queens of the Stone Age is a pretty tantalizing treat and miraculously doesn't travel to cringey levels, instead being a punchy 60s rock anthem.
September 1, 2017
Hype Rating: 7/10
OH LCD WHY GOD WHY. After a bottle of water and some deep breathing, we'll probably come to terms with how the quality of the music shouldn't be anywhere near the third grade Microsoft Paint cover art. The two new tracks certainly cement that gaping hole of "bad album nervousness", but with that choice of design, we can't help but feel a little in the mood of scrutinizing when the new record drops.
September 1, 2017
Hype Rating: 7/10
After an assortment of different lineups, key principal songwriter Kip Berman remains head honcho of the NYC indie pop band who carved up one of the decade's best pop albums in their self-titled debut. There's real reason for intrigue, as with every Pains record, it's a different sound – with The Smiths laden 80s noise pop debut in The Pains of Being Pure At Heart (2009), the loud and colourful shoegaze musings of 90s alt rock in Belong (2011), and the distilled, airy and 'glitterful' crispness and longing of Days of Abandon (2014), it'll be an enticing treat to see Pains take again, a remarkably different and bold direction of 80s revivalism that is seem-ably more abstract and liquid in nature.

Every Country's Sun – Mogwai
September 1, 2017
Hype Rating: 6/10
It's an interesting time in a band's tenure when you've done just about everything possible with your group's signature sound. The inflation has passed and now you can focus solely on doing music, for goddamn music's sake. The music this time is even more undecipherable, even by Mogwai standards, and patience will be tested – only time will tell if it blossoms into rewarding.
Antisocialites – Alvvays
September 8, 2017
Hype Rating: 8/10
This is gonna be a great album, this is gonna be a great album, this is gonna be a great album. [Repeat to self in front of mirror every morning for desired effect] All jokes aside, we just hope this record doesn't sound tired in it's totality and is every bit as enjoyable as their remarkable debut record that you probably played like 50 times – for every track.
September 8, 2017
Hype Rating: 7/10
The National are back, and they're in peak form! The System Only Dreams In Total Darkness was a fantastic lead-in track, and is just about the most exciting direction a beloved late 00s indie darling can take, it's colourful, noisy, bright, well-nuanced and if this is any descriptor of the new record, interest in The National will start to blossom even more and carry on into this tail end of the decade.
Dedicated To Bobbi Jameson – Ariel Pink
September 15, 2017
Hype Rating: 10/10
This album has a grand concept of the "failed musician", the name of the artist in the title a 1965 obscure L.A. musician, with themes of the struggles of finances and a life of an artist resonating deeply with Ariel, who decided to dedicated this record to him.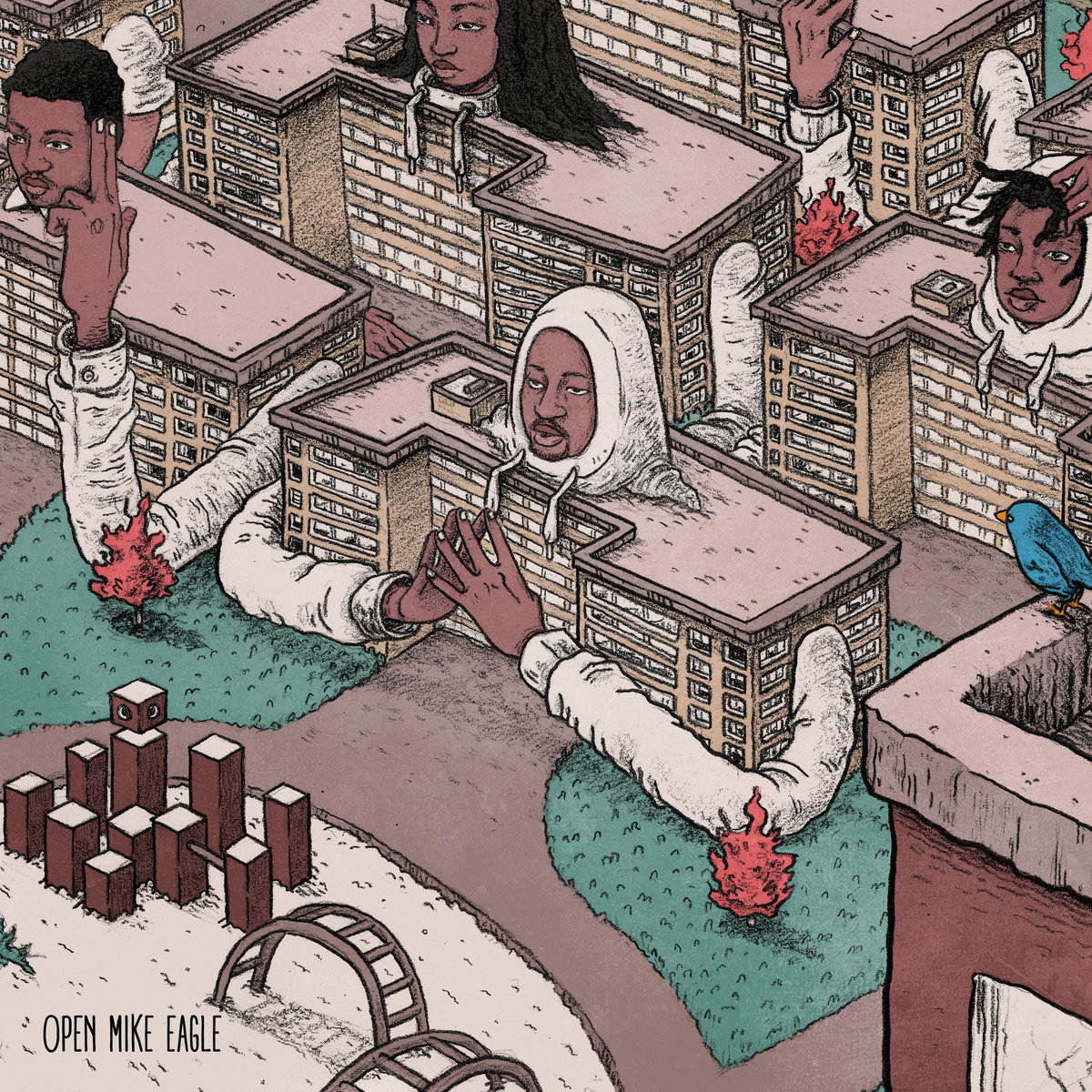 Brick Body Kids Still Daydream – Open Mike Eagle
September 15, 2017
Hype Rating: 7/10
The album "chronicles the life cycle of a housing project that was demolished" a decade ago, and the families that lived under the roof for three generations having to disperse. Open Mike's humour is still front and center on this album, but the tone is more political and serious now, and we'll see how that concoction fits into this.
September 18, 2017
Hype Rating: 7/10

September 22, 2017
Hype Rating: 7/10
Really don't know anything new to expect from this album, but I guess it'll be more politically informed, and if it goes by usual G!YBE standards, then we're in for some deep seatings.
4:44 – Jay-Z
(Digital Album already out, physical release date not confirmed)
Hype rating: 8/10
*Crossing my fingers that the vinyl isn't a TIDAL-ONLY subscription purchase

(untitled) – St Vincent
Hype rating: 8/10
This new aesthetic has got to herald an upcoming record. Quiet but stunning single New York is an absolute masterpiece and show St Vincent at her most vulnerable and passionate. With her 2014 album blowing her "opponents" out of the water, this could be a simplistic return of peak form for Annie Clark, much like the previous entry on this list.
Calling all vinyl records collector out there! Want to share & showcase your records collection with our community? Download #vinyloftheday marketplace app to start sharing, discover great music or even start buying vinyl records & selling vinyl records via
iOS: http://cratedig.us/app
Android http://cratedig.us/android